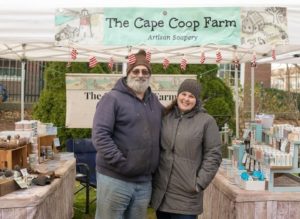 Questions?  Comments?  Email us at liz@thecapecoop.com
Welcome!  
We are Liz & Keith –  small scale farmers (click here to visit our farm blog) and makers of handcrafted artisan soaps & spa products.  I have always loved creating and all things crafty.  In 2014 I attended a short demonstration on soap making just as something to do one chilly Saturday.  Well that class snowballed into binge watching soap making videos and researching everything I could.  That quickly turned into my first soap loaf, then my 10th, then my 100th! Before I knew it we had hundreds of bars of soap around and the Soap Shop was formed.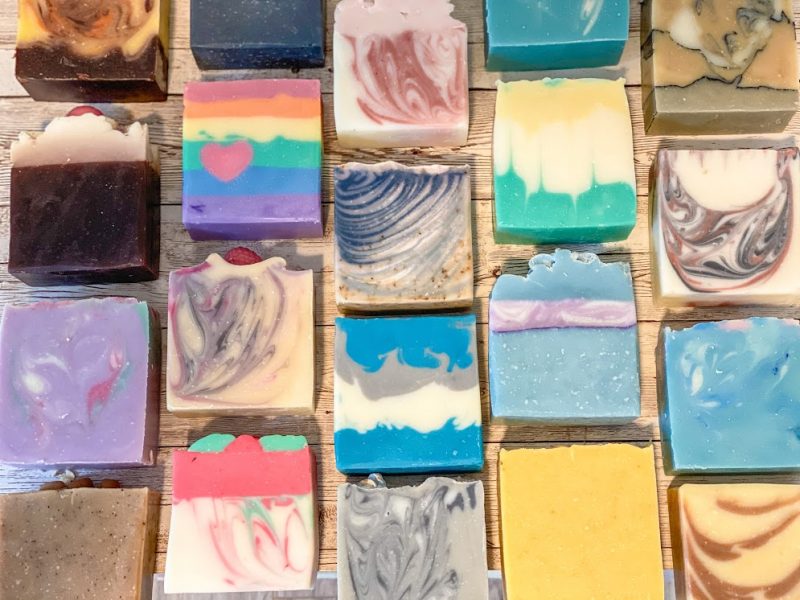 I love experimenting with different design techniques, colors, ingredients, and all the different fragrance combinations!  I love the way our handmade products treat my skin. I love making people smile with unexpected special details on a commonplace item like soap.  I love being able to be creative day in and day out on products that are both beautiful & practical.  I love sharing my passion with others in teaching & talking soap!
Most of our soaps are made with Cape Cod seawater, harvested off the coast of Falmouth.  It's like having the ocean in your shower.  But as I mentioned I love experimenting with different things so we also have soap made with goat's milk, beer, coffee, tea, eggs, honey…if you can put it in soap I probably have done it!  We have something for everyone – soap with lots of bright colors and unique fragrances, soaps with all natural coloring & essential oils, super fancy art soaps, simple one color soap, and unscented soaps.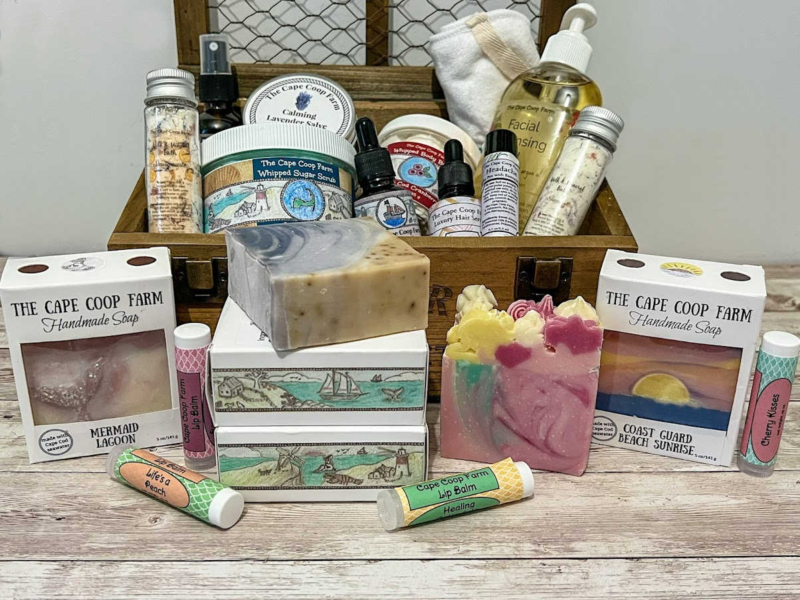 Legal Stuff
If you have any questions, feel free to contact me at liz@thecapecoop.com. The views and opinions expressed on this site are purely my own. Any product claim, statistic, quote or other representation about a product or service should be verified independently and has not been reviewed by the FDA.
Privacy Policy:
The Cape Coop will not, under any conditions, share, transfer, or sell your personal information with any third parties. This means we do not share the information we collect with any marketing firms, telecommunication agencies or third party services for any reason.
Personal data will be collected in order to service & deliver your order, or to manage your account. This information will never be shared, transferred, or sold.
Return Policy:
We 100% believe in our products and always want you to be satisfied with your purchase. Due to the sanitary nature of our products, we can not accept returns. If your products arrive to you damaged or otherwise defective, please email us at liz@thecapecoop.com so we can remedy the situation. Please understand that all our products are handmade, and as such may differ slightly from the photos.
Shipping:
The majority of our orders are shipped via USPS Priority Mail and should arrive to you 1-3 days after the order is shipped. Please allow an additional 1-2 days for order processing. Currently, we can only ship orders within the United States.
Shipping for small order is a flat rate of $5, orders over $30 (before taxes) ship for free. Contactless pickup is also available for local orders. To select pickup, enter the coupon code "FALMOUTH" to remove shipping charges and I will hold your order. You may email me at liz@thecapecoop.com or Facebook message me @thecapecoop1 to arrange pickup time.
Wholesale:
We love wholesale orders and offer very flexible terms. Please email us liz@thecapecoop.com for more information!