Description
Smooth all-natural Whipped Body Butter on the face, hands, feet, elbows or anywhere else you want long-lasting, super soft skin! Perfect as an after-shower moisturizer and for protecting skin from harsh winter weather. Works wonderfully as an overnight, deep facial moisturizer. Gentle, all-natural, preservative & artificial color-free formula is safe to use on all skin types.
Available in six awesome Signature Cape Coop Scents. Get the soap, sugar scrub, & body butter in matching fragrances for a full care body line!
Signature Fragrances:
Salty Sea Dog (an ocean blend of bergamot, eucalyptus, lavender & rosemary essential oils)
Mermaid Lagoon (a calming blend of lavender, chamomile & bergamot essential oils)
Cape Cod Girls (a fresh blend of lemon, lavender, bergamot, eucalyptus & cedarwood essential oils)
Nantucket Hydrangea (a rich floral fragrance oil)
Evening in the Orchard (a fruity fragrance with notes of bergamot, raspberry, blackberry, & peony)
Cape Cod Cranberry (a sweet & tart fragrance with notes of cranberry, orange, vanilla & cinnamon)
ingredients: Shea Butter, Mango Butter, Coconut Oil, Olive Oil, Arrowroot Powder, Vitamin E, fragrance or essential oil (depending on variety)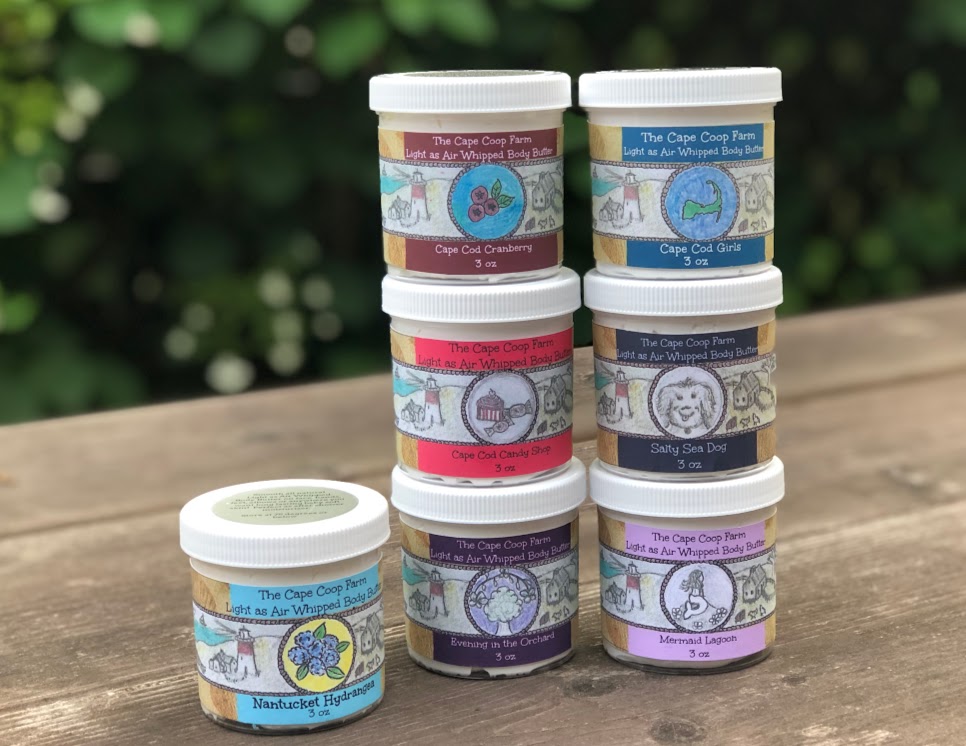 Natural oil body butter should be kept at temperatures below 75 degrees. At temperatures higher than this, the product may soften. If this happens, put it in the refrigerator to reharden. Quality will not be affected, but consistency may change.
Whipped Body Butter is light and fluffy. Jars are filled by weight, 3 oz of product
To use: Apply a SMALL amount to your palm and rub on any areas of dry skin. Remember a little will go a LONG way! This jar of body butter will last you quite a long time.
**Whipped Body Butter should be stored at 75 degrees or under. In the summer months, body butters will ship with an ice pack. If melting occurs don't panic! Put the body butter in the refrigerator and it will re-solidify. Some of the air whipping texture will be lost, but the product is still wonderful for use!
**Use the coupon code SHIP30 for FREE SHIPPING on all orders over $30!**