Description
Harness the power of essential oils in a convenient take along roller pen! All natural, high quality essential oils work with your body to provide chemical free aromatic blends. Each roller pen comes in a 10 mL dark cobalt glass container with screw on cap. The essential oils are blended with vitamin E rich Sweet Almond Oil.
To use, roll in a circle 3-5 times on temples, wrist, or any pulse point
For external use only, do not ingest. Avoid eyes or broken skin. Keep out of reach of children, consult doctor if pregnant.
Note, the rollers are made with sweet almond oil, if you have nut allergies we are happy to substitute fractionated coconut oil.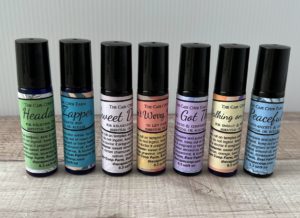 Essential Oil Blends available:
*Headache for relieving tension – essential oils: frankincense, lavender, peppermint (apply to temples & neck)
*Zit Zapper for clearer skin – essential oils: tea tree, frankincense, lavender (apply to problem skin)
*Sweet Dreams for relaxation & calm – essential oils: lavender, Roman chamomile, frankincense, vetiver, bergamot, and cedarwood
*Don't Worry, Be Happy to lift your mood – essential oils: lemon, orange, grapefruit, tangerine, lavender, vanilla planifolia
*You Got This! for focus & confidence – essential oils: orange, peppermint, lemongrass
*Walking on Sunshine for energy & positive vibes – essential oils: orange, lemon, basil, pine, eucalyptus
*Peaceful for anti-anxiety & calm – essential oils: vetiver, frankincense, lavender, orange
**Use the coupon code SHIP30 for FREE SHIPPING on all orders over $30!**