Description
There is an old sea shanty that goes
"Cape Cod girls they got no combs, they comb their hair with cod fish bones"
I'm not sure if that was meant as a compliment or not, but it's clear Cape Cod girls know they can turn to the sea for natural beauty! Detoxifying Sea Clay Face Mask will leave your skin clean, ageless & glowing without the chemicals and additives.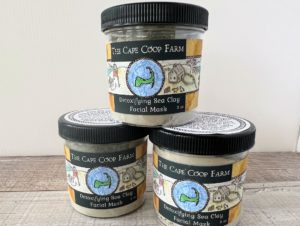 All natural ingredients and zero nasty chemicals!
Sea Clay
Seaweed
Kaolin clay
Ground Oatmeal
Organic Rose Petals
To keep this face mask preservative free, we only sell it in dry form. Please mix equal amounts face mask powder & liquid (use water, milk or herbal tea). Apply to face, neck or decolletage and allow to dry for 10-15 minutes. Mask will harden on your face, drawing out toxins. Rinse clean with a warm, wet cloth. Please use non-metallic bowls & utensils for mixing. Use weekly and for best results follow with Cape Coop Farm's rich, moisturizing body butter! There are about 18 applications in a 3 oz jar if you use 1 teaspoon per use.
Detoxifying Sea Clay Face Mask is formulated for all skin types, but if an allergic reaction occurs discontinue use.
ingredients: Sea Clay, Kaolin Clay, ground Seaweed, ground Oatmeal, Organic Rose Petal powder
**Use the coupon code SHIP30 for FREE SHIPPING on all orders over $30!**