Description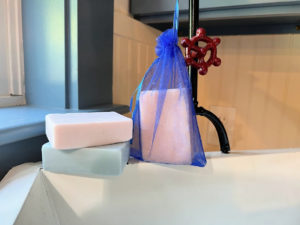 Loving your hair & the planet has never been so easy with our new conditioner bars! Each bar is at least 3.1 oz
*nourishing for all hair types
*smoothes hair and fights frizz & flyaways
*sulfate & paraben free
Features jojoba, coconut, & argan oils, cocoa butter, keratin protein,
panthenol (pro vitamin B5), & glycerin!
*reduce plastic use
*perfect for travel!
*each bar lasts for over 60 uses
Three amazing scents for healthy, happy hair:
Spearmint & Clary Sage – scented with fresh, earthy spearmint & clary sage essential oils
Morning Mimosa – energizing & sweet citrus with orange, grapefruit, lime, & bergamot essential oils
Lavender Rosemary – relaxing floral lavender essential oil & herbal rosemary essential oil
How do I use solid conditioner?
To Use: start with wet, clean hair. rub bar on hair, be sure to work into ends. Massage into hair & scalp. Let sit for 2-3 minutes. Rinse. For dry hair, after rinsing, lightly wring hair and then rub a small amount of the conditioner into lower half of wet hair as a leave-in conditioner
Long Hair Tip: I find it easiest to condition my long hair by holding the length of my hair in one hand to the side of my head, hold the conditioner bar in the other hand and rub into hair & ends
For the longest use allow the bar to dry between uses. Conditioner bars come with a mesh bag. You can use the bar while in the bag, then hang up to dry!
What type of hair will these work with?
Most hair types will do well with these conditioner bars including dry, normal, damaged, or colored. For people with dry or frizzy hair I recommend after conditioning and rinsing as normal, use a little more conditioner just on the lower half of your hair as a leave-in conditioner.
Ingredients: cetearyl alcohol, behentrimonium methosulfate, coconut oil, jojoba oil, cocoa butter, argan oil, broccoli seed oil, essential oil blend, polysorbate 80, keratin protein, panthenol, vitamin e, honeyquat, glycerin, distilled water, optiphen, mica color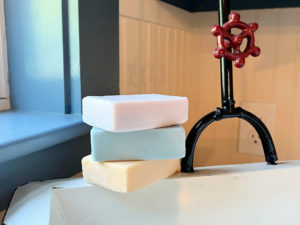 click here to check out our solid shampoo bars for a full hair care set!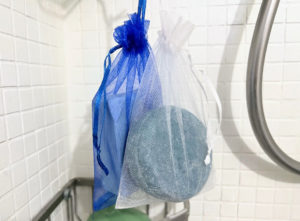 We are proud of our ingredients, here is the FULL ingredient list breakdown:
Cetearyl Alcohol– A fatty alcohol derived from coconut oil, it add softness and is hydrating for hair
Behentrimomium Methosulfate- This ingredient's scientific name might be hard to pronounce but is not scary. BTMS is an emulsified wax, an ammonium salt compound that is derived from rapeseed oil combined with Cetearyl Alcohol. Despite having "sulfate" in its name, it is non-sulfate. It is great for detangling, softening, and preventing flyaways & frizz.
Coconut Oil – heals damage by hydrating and strengthening brittle strands
Jojoba Oil – moisturizes, promotes healthy growth & thickness
Cocoa Butter – nourishing natural butter that promotes scalp health for dandruff control & healthy new strong growth
Argan Oil – adds shine and fights frizz
Broccoli Seed Oil– an omega 9 fatty acid that is easily absorbed by the hair for soft, shiny hair
Essential Oil Blend – provides scent & hair care benefits from high-quality essential oils that I have blended myself
Polysorbate 80 – used to emulsify ingredients, it is a synthetic surfactant composed of fatty oleic acids. It can help purge DHT hormones from the scalp, for healthy hair regrowth
Keratin Protein – the building block of hair; keratin smooths, strengthens, and increases elasticity
Panthenol – Pantothenic acid, also known as pro-vitamin B-5, a humectant that helps your hair retain moisture and improves the texture of damaged hair
Vitamin E – an antioxidant that promotes scalp health
Honeyquat – an antioxidant derived from pure honey, promotes shine, smoothness, and improves texture
Glycerin – hydrates the hair & scalp for long-lasting moisturizing
Distilled water – helps to blend the ingredients
Optiphen – a paraben and formaldehyde free preservative
Mica – a cosmetic colorant