Description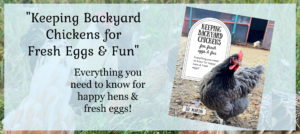 **Orders over $30 always ship for free! Smaller orders have a flat rate shipping of just $5**
Tired of paying high egg prices for months old factory eggs? Looking to live a more sustainable lifestyle? Now is the perfect time to add a flock of laying hens to your backyard! And to help with that, I am super excited to announce my FIRST BOOK, "Keeping Backyard Chickens for Fresh Eggs & Fun", is available now on e-book & paperbook!
You can order the paperback verision direct from me on this page – if you want it signed I am happy to do that, just make a note in your order! Paperback list price is $24.99
If you would like the e-book verision, you can find that on Amazon here: e-book list price: $9.99
About the Author
Liz Martin has been farming her suburban backyard since 2012 and has run the popular website, TheCapeCoop.com, since 2015. On her website she offers insights on small scale farming- caring for poultry, rabbits, alpacas, gardening, recipes, and more. A first generation farmer, she loves to welcome farming newcomers and help them along their journey of self sufficiency. Liz firmly believes you don't need to come from generations of farmers to discover the joys of raising animals and growing your own food.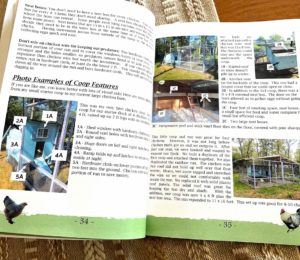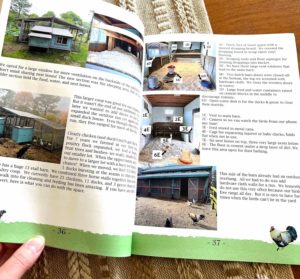 \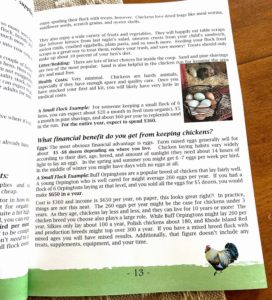 What You'll Find Inside – Table of Contents
Chapter 1 – Chicken Keeping Basics
Chicken Terms You Need To Know
How Much Space Do Chickens Need?
How Much Money Does It Cost to Keep a Flock?
How Much Time Does Maintaining Chickens Require?
Researching Local Laws Regarding Chicken Keeping
Chapter 2 – Getting to Know Your Chickens
All About Chicken Eyes
Combs, Wattles, and Lobes
Chicken Reproduction
Chicken Digestive System
Signs Your Chicken Is About to Start Laying
Dust Bathing
Broody Chickens
Chapter 3 – Housing
Important Features for a Coop and Run
Photo Examples of Coop Features
Methods to Keep Your Coop Clean
Keeping Rodents Out
Using an Enclosed Run vs Free Ranging
Chapter 4 – So Many Breeds!
Selecting Chicken Breeds
Heritage Breed Chickens
My Personal Favorites
Where to Buy Chickens
Chapter 5 – All About Chick Care
Fascinating Facts About Chick Development
Setting Up a Brooder and Basic Care
When and How to Transition Chicks Outside
Introducing Chicks to Your Existing Flock
Chapter 6 – Expanding Your Chicken Flock
Tips for Adding Adult Hens
Hatching Eggs with a Broody Hen
Hatching Eggs with an Incubator
Giving a Broody Hen Day Old Chicks
Should You Add a Rooster to Your Flock
Chapter 7 – When Things Go Wrong
Assembling a Chicken First Aid Kit
Common Illnesses and Injuries
Wounds from Other Chickens
Wounds from Predators
Mites and Lice
Worms
Bumblefoot
Egg Binding
Vent Gleet
Fowl Pox
Coccidiosis
Marek's Disease
Water Belly
Sour Crop
Impacted Crop
Fly Strike
Dealing with Death
Chapter 8 – All About Eggs
Fertilized Eggs vs Unfertilized Eggs
Supporting Healthy and Delicious Eggs
Reasons Healthy Hens Stop Laying
Chapter 9 – Daily Life with Your Flock
A Day in the Life
How to Take a Vacation When You Have Chickens
Being a Good Neighbor and Farmer
Feeding Healthy Chickens for Life
What to do with Aging Hens
Chapter 10 – Seasonal Chicken Concerns
Spring Chicken Keeping
Summer Chicken Keeping
Heat Stress and Heat Stroke
Autumn Chicken Keeping
Supporting Your Flock During Molting
Winter Chicken Keeping
Winter Preparation
Preventing and Treating Frostbite
Supplemental Lighting
Keeping Water from Freezing
Chapter 11 – Expanding Your Backyard Farm with Other Livestock
Ducks and Geese
Rabbits
Bees
Mini Goats