Description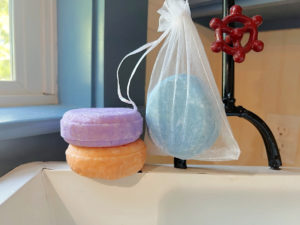 Solid Shampoo Bars are here! Loving your hair & the planet has never been so easy with our new shampoo bars. Each bar is 4 oz
Three amazing scents for healthy, happy hair:
Spearmint & Clary Sage – scented with fresh, earthy spearmint & clary sage essential oils
Morning Mimosa – energizing & sweet citrus with orange, grapefruit, lime, & bergamot essential oils
Lavender Rosemary – relaxing floral lavender essential oil & herbal rosemary essential oil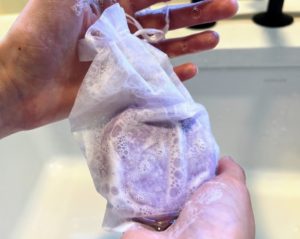 To Use: wet hair & shampoo bar. rub shampoo bar on hair to release lather. massage into hair & scalp. rinse
You can remove the bar from the organza bag for use, or keep it in the bag while using (the lather will come right through the mesh bag), then use the handy bag ties to hang the shampoo bar in the shower to dry!
for longest use allow bar to dry in between uses.
Ingredients: Sodium Cocoyl Isethionate, Sodium Lauryl Sulfoacetate, Argan Oil, BTMS 25 (Behentrimonium Methosulfate, Cetearyl Alcohol), Cetyl Alcohol, Cocamidopropyl Betaine, Hydrolized Silk, Panthenol, essential oil blend, Germall Plus, mica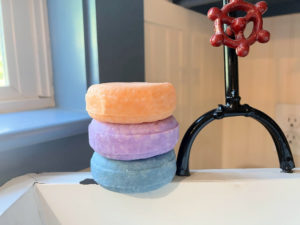 WHY use a solid shampoo bar?
*reduce plastic use & clutter in the shower
*perfect for travel
*long lasting! each bar lasts about as long as 2 average size shampoo bottles
*pH balanced to clean & nourish your hair & scalp for gorgeous, healthy hair
*gentle cleansers derived from coconut oil that won't strip your hair like commercial shampoos
*added argan oil to protect against split ends & damage
*emulsified wax to smooth flyaways
*hydrolyzed silk & panthenol (pro-vitamin B5) aid elasticity, strength, & improve texture
click here to check out our solid conditioner bars for a full hair care set!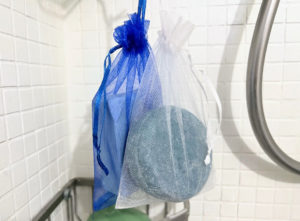 Shampoo Bar FAQ
What type of hair will these work with? Most hair types will do well with these shampoo bars including dry, normal, damaged, or colored
How are shampoo bars different than soap bars? Shampoo bars are specially formulated for hair. Cold process body soap is made by combining fats & lye in the process of saponification. The process produces a naturally alkaline product with a pH around 9 or 10 which is good for skin. Hair likes a more acidic product with a pH of around 4 or 5. Prolonged use of alkaline products (like body soap) on the hair leads to damaging the hair cuticles which makes hair frizzy, prone to breakage, and hard to manage. If you use body soap on your hair & scalp you should follow up with a vinegar rinse to correct the pH. The acidity of the vinegar returns the hair to a healthy pH. Shampoo bars start with a hair-friendly pH so do not need a vinegar rinse, using gentle vegetable-based cleansers & argan oil for soft, manageable hair.
What are those pieces that look like rice in the bar? That is the sodium cocoyl isethionate "noodles" (sometimes called SCI) – a super gentle cleanser derived from coconut oil. Once these "noodles" get wet they produce a wonderful lather & a clean that doesn't strip your hair
Some of those ingredients are scary sounding! What is up with that? The ingredients' scientific names might be hard to pronounce but are not scary. The first 3 ingredients make up 85% of each bar. Here's the breakdown:
Sodium Cocoyl Isethionate – a natural ingredient, SCI acts as an extremely gentle surfactant (cleanser), made from fatty acids from coconut oil, combined with isoethionic acid, a type of sulfonic acid.
Sodium Lauryl Sulfoacetate– a natural ingredient, SLSa is a foaming surfactant (cleanser) naturally derived from coconut & palm oil. NOT TO BE CONFUSED with Sodium Lauryl Sulfate which is a lab created harsh surfactant.
Argan Oil – natural plant oil produced from the kernels of the argan tree. It is moisturizing and protects hair from damage & split ends for thicker fuller hair.
BTMS 25 – an emulsified wax, great for detangling, softening, and preventing flyaways/static. It also aids in emulsifying the shampoo bar ingredients. Made from Behentrimonium Methosulfate (ammonium salt that's derived from the oil of the rapeseed plant) and Cetearyl Alcohol (a fatty alcohol naturally derived from coconut oil)
Cetyl Alcohol – helps to smooth & seal hair cuticles, a fatty alcohol naturally derived from coconut & palm oil
Cocamidopropyl Betaine – synthetically derived fatty acid surfactant from coconut oil – cleansing and hydrating
Hydrolyzed Silk – improve your hair's elasticity and strength, made by hydrolyzing (breaking down) the silk protein from the spent cocoon of the silkworm
Panthenol – Pantothenic acid, also known as pro-vitamin B-5, a humectant that helps your hair retain moisture and improves texture of damaged hair
Essential Oil blend – provides scent & hair care benefits from high quality essential oils that I have blended myself
Germall Plus – a paraben free preservative. Made up of Propylene Glycol, Diazolidinyl Urea, Iodopropynyl Butylcarbamate
Mica – a cosmetic colorant