Description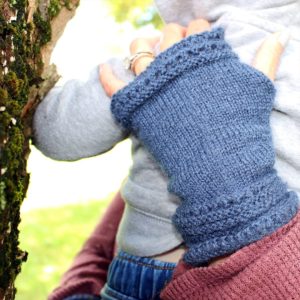 Use our Alpaca Wrist Warmers to stay comfortable, whether working on the computer, driving, or walking the dog.
With full access and mobility of your fingers and thumb, these Alpaca Wrist Warmers will keep you warm + cozy while allowing you to do anything and everything you'd like! Eyelet design adds a ruffle of texture around the top and bottom of your hand while the tighter knit around the wrist traps warmth where you want it most. An opening for your thumb keeps them from slouching down.
Contents: 80% U.S. Alpaca, 20% Recycled Nylon
Care: Spot Clean/Hand Wash in Cool Water with a Mild Detergent as needed, Lay Flat to Dry
One Size Fits Most, in blue & slate grey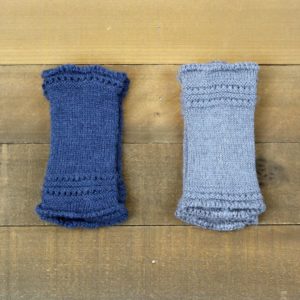 The fiber from our farm's alpacas is collected every year, skirted, sorted, and sent to our local fiber pool for processing. The New England Alpaca Fiber Pool allows small farms to pool their resources to turn locally grown alpaca fiber into high quality products, maximizing the value and quality of our raw alpaca fiber. The local fiber cooperative supports not only our farm, but other small alpaca farms and the local textile mill!