Description
Treat yourself to this 100% all natural Facial Cleansing Oil. Unlike harsh synthetic cleaners; natural oils clean, hydrate, and balance your skin. Synthetic cleaners strip your skin of it's natural oils. This signals to your skin that it needs to increases sebum production – leading to clogged pores, break outs, and uneven texture and tone.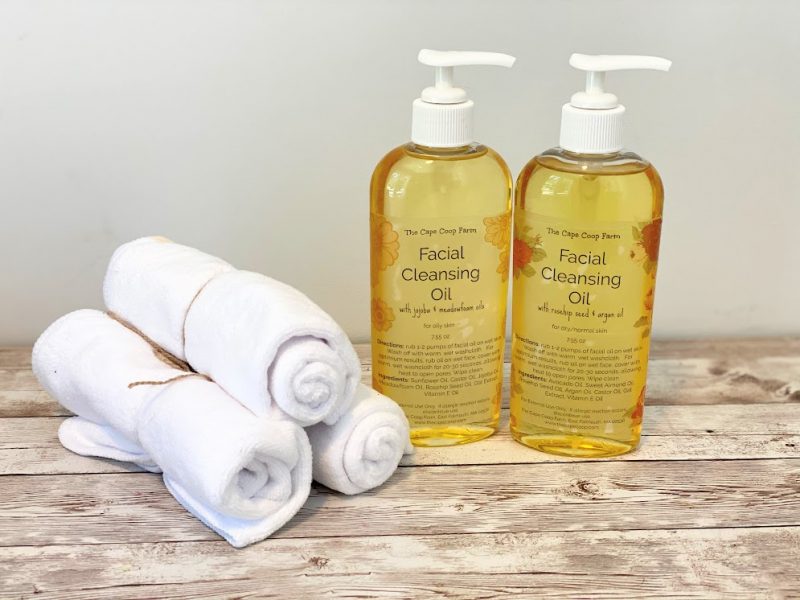 Oil dissolves oil
By using the right oils on your skin, you can cleanse your pores of dirt & bacteria while replacing the bad oils on your face with good oils – balancing & hydrating your skin.
Our Facial Cleansing Oil comes in two formulas – one made for dry/normal skin types and one made for oily skin types. Both formulas are full of good for you oils and have absolutely ZERO Parabens, Phthalates, Sodium Laureth Sulfate, or any other icky chemicals.
Dry/Normal Skin – 7.55 oz
Excellent for those with dry, mature, or combination skin, featuring a balance of oils high in oleic & linoleic acid
Ingredients: Avocado Oil, Sweet Almond Oil, Rosehip Seed Oil, Argan Oil, Castor Oil, Oat Extract, Vitamin E Oil
Oily Skin – 7.55 oz
Featuring higher percentages of cleansing oils and oils higher in Linoleic Acid, this formula is perfect for balancing your skin's natural sebum production
Ingredients: Sunflower Oil, Castor Oil, Jojoba Oil, Meadowfoam Oil, Rosehip Seed Oil, Oat Extract, Vitamin E Oil
Directions for Use:
No need to remove makeup first – the oils will remove that too
Wet face. Rub 1-2 pumps of facial oil on wet skin. Wipe off with warm, wet washcloth.
For optimum results, rub oil on wet face, cover face with warm, wet washcloth for 20-30 seconds allowing heat to open pores. Wipe clean
With daily facial use, the 7.55 oz bottle should last about two months
Microfiber Washcloth
These super soft microfiber washcloths are the perfect companion for our Facial Cleansing Oil! Microfiber cloths are gentle on your skin and dry quickly to prevent bacteria growth. Sturdy & machine washable, they also have a convenient tag to hang for air drying.