Description
Pilgrim Monument was erected over 100 years ago on the tip of Cape Cod in Provincetown to commemorate the place where the Pilgrims first landed before settling in Plymouth. At over 250 feet tall, views from the top of the monument are spectacular! "Pilgrim Monument" soap also features a mini Mayflower boat in the background.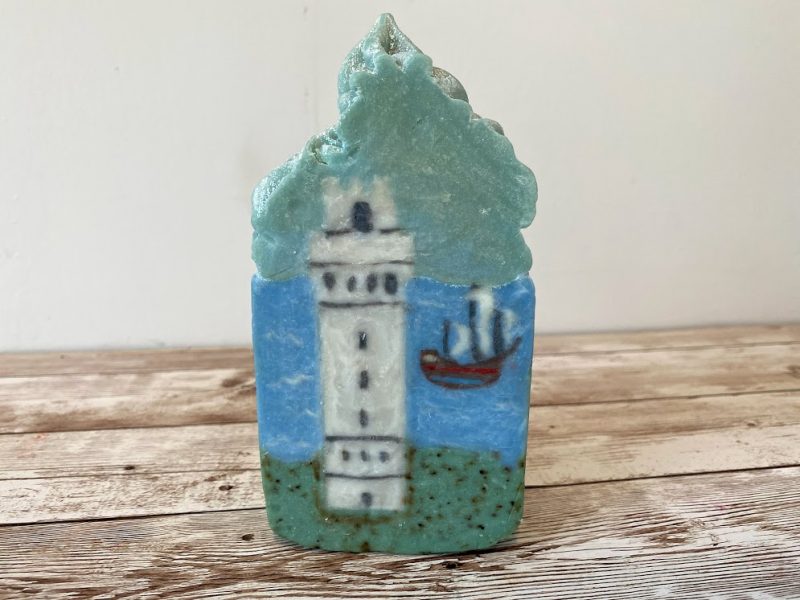 "Pilgrim Monument" soap is a large 7 oz bar with a high decorative piped top. The front of each bar is hand carved and the fine details hand molded. The soap bars might be works of art, but they feel just as good on your skin as they look – made with luxurious shea butter, high grade oils and Cape Cod Seawater. Perfect for display for the shower! You will love the woodsy scent, a blend of fresh air, pine, orange blossom, violet, moss, musk, amber, and wood
Our artisanal soaps are large – about 40% bigger than our standard soaps. Your Premium Artisanal Soap & Lip Balm set comes in a clear front gift box including one artisanal soap (7 oz) and one of our fabulous beeswax lip balms (0.19 oz assorted flavors). All of our soaps are made by hand in small batches in our Cape Cod kitchen using traditional cold process soaping methods. As each bar is handmade, please expect slight variations in size & color.
Handmade cold process soap will last longest if allowed to dry in between uses. We recommend using a draining soap dish for longest life.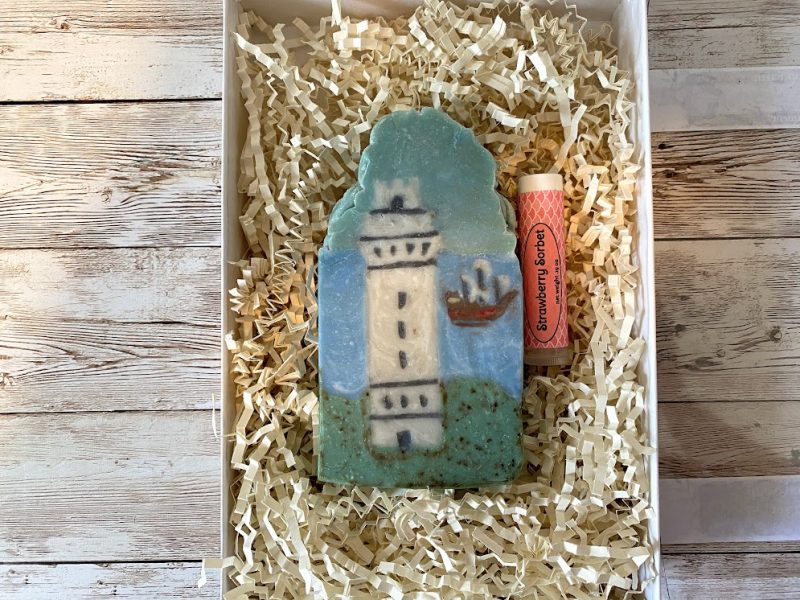 soap ingredients: unfiltered Cape Cod seawater, Olive Oil, Coconut Oil, Palm Oil, Shea Butter, sodium hydroxide, Avocado Oil, Castor Oil, fragrance, mica colorants
lip balm ingredients: Beeswax, Mango Butter, Shea Butter, Coconut Oil, Sweet Almond Oil, Flavor Oil or Essential Oil (depending on variety), mica mineral for color (in some varieties)
**Use the coupon code SHIP30 for FREE SHIPPING on all orders over $30!**