Description
If you have never experienced cold process soap made with real beer you are in for a treat! Beer soap does not smell like beer (the alcohol is cooked off before the soap making process) only a faint smell of hops come through into the finished product from the beer. Beer soap has lots of wonderfully creamy, foamy bubbles thanks to the natural sugars!
A delicious fragrance oil with notes of creamy oatmeal, citrusy orange, sweet butterscotch, warm milk, nutty almond and rich vanilla perfectly compliment the gentle hops & grain of the beer. A line of activated charcoal runs through out the bar. Amber Ale Beer Soap is made from beer from a local microbrewery here on Cape Cod.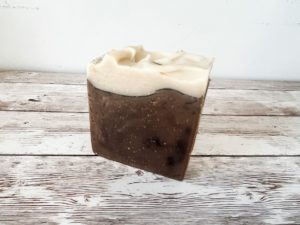 All of our soaps are made by hand in small batches in our Cape Cod soap studio using traditional cold process soaping methods. Each bar is approximately 5 oz. As each bar is handmade, please expect slight variations in size & color.
Handmade cold process soap will last longest if allowed to dry in between uses. We recommend using a draining soap dish for longest life.
Ingredients: Cape Cod Beer Red, Olive Oil, Coconut Oil, sustainable Palm Oil, Sweet Almond Oil, sodium hydroxide, Shea Butter, Castor Oil, fragrance, Activated Charcoal, mica
**Use the coupon code SHIP30 for FREE SHIPPING on all orders over $30!**