Description
Too many choices? Is your head going to explode if you have to make one more decision? Do you just like surprises? Picking out a gift and you don't want to be held responsible for picking the wrong scent? I got you – let me pick out a great assortment for you to enjoy. Simply add the quantity of soap you would like and I'll pick out a great selection – super easy! If you have any specific requests (such as no floral scents or include lots of citrus scents) please include in the note section of your order.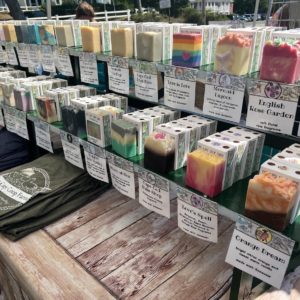 All of our soaps are made by hand in small batches in our Cape Cod soap studio using traditional cold process soaping methods. Each bar is approximately 5 oz. As each bar is handmade, please expect slight variations in size & color.
Handmade cold process soap will last longest if allowed to dry in between uses. We recommend using a draining soap dish for longest life.